Dragons



Species:

Great Wyrm Demon

Affiliation:

Depens on the Wyrm's beliefs

Threat Level:

12/10

Abilities/Defense:

-Claws and fangs -Tail -Breath power

Enviroment(s):

The Azazel Fields

Origin:

Eruope and East Asia

Class:

Greater Demon
Known as winged Wyrms, Dragons are unique demons. However, not all are evil. Some are good and/or netural, choosing to live outside of the demonic, criminal lands of The Azazel Fields. Some even live in the Dragonia Galaxy. Most, though, still delve in the Fields. Evil Dragons are a forced to be reckoned with, however. They prefer to "conquer and destroy".
Abilities
Edit
Dragons have what humans like to call "Breath powers" or "Breath weapons". Using a magical sack in their throats, Dragons can produce an elemental effect in the form of their breath. Most dragons breathe fire- however, there are some uniqe ones who can breathe ice, lightning, acid, and sleep/knock out gas.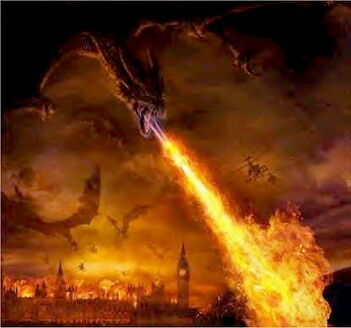 Famous Dragons
Edit
Community content is available under
CC-BY-SA
unless otherwise noted.